04 Jun

Lynyrd Skynyrd- "One Year after the Crash, Here comes their First Album…and their Last."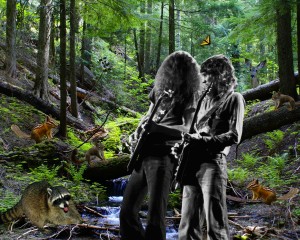 Allen & Steve Artwork by Ben Upham III
CLICK ON LINKS BELOW TO SEE MORE LYNYRD SKYNYRD PHOTOS & ARTWORK:
WINTERLAND 4-27-75
and
OAKLAND 9-20-75
and
WINTERLAND 3-6-76
and
SPOKANE 10-7-76
and
SPOKANE SOUNDCHECK 10-7-76
and
LYNYRD SKYNYRD ARTWORK by BEN UPHAM III
Lynyrd Skynyrd- "One Year after the Crash, Here comes their Very First Album…and their Last."
by Roy Simpson
Circus Magazine October 10, 1978
Everyone knew it was coming, it was just a matter of time.
It's been over a year since a light plane, carrying the Lynyryd Skynyrd entourage, crashed in a Mississippi swamp.
The band was devastated. They lost their leader, vocalist Ronnie Van Zant, and a guitarist who did more for the group since his addition in '76 than anyone could imagine-Steve Gaines.
The tragedy also claimed one third of Skynyrd's backing vocals, Gaines' younger sister, Cassie. Gone too, was Dean Kilpatrick, who had been everything from roadie to personal valet for them since the beginning.
How could they go on without Ronnie, that two-fisted, Hell-raising country boy who put it all together?
Or Steve, that anonymous picker from Oklahoma who gave the band a needed kick in the Ass and either wrote or co-wrote half of Street Survivors?
They weren't called survivors just because they wound up on top of 99 out of 100 bar room brawls they engaged in around the globe. In fact, the craziness, not the stories, had slowed considerably since Gaines' entrance into the Skynyrd clan.
Now it was time to survive once again. And the responsibility fell square on the shoulders of guitarists/ songwriters Allen Collins and Gary Rossington. For it was these two, along with Ronnie Van Zant, who made up the nucleus of Lynyrd Skynyrd.
It's a long lonesome drive out to Allen Collins home on the southern tip of Jacksonville, Florida. Crossing the Buckman bridge, there is a slight chill in the night air.
Allen and Gary had remained reclusive and reluctant to discuss their future. Their main concerns were next month's bills, a family life that the road had all but taken from them, and just learning to hold a guitar again. But now they had reason to talk.
The two had just recently returned from a short but fruitful trip to Muscle Shoals, Alabama. There, along with producer and long-time friend, Jimmy Johnson, they mixed and mastered nine tunes that had been recorded and stored since 1970-71. This would be the Skynyrd anthology, and the last collection of songs that would fill the album racks under the name Lynyrd Skynyrd.
When this writer arrived, Allen was immersed in a tape that a promising local band had brought over, and Gary was on the way into the kitchen for a Budweiser. After the usual greetings, a search for some rolling papers and a few opinions on the visitor's music, Allen reached for his own cassette. "Wino in the streets, Drinkin' a bottle of booze. Ain't got nothin' to say, Don't got much to lose. Looks back on his childhood, Wonders the reasons why .. Why so many made it rich, Why so many cried"
The haunting lyrics and the funky Southern melodies of "Wino," the lead cut, and possible single from the anthology, filled the room. It was a familiar tune. I had heard them perform it countless times at teen clubs and honkytonks around town nearly ten years ago.
Gary answered the question before he could be asked. "It was supposed to come out anyway. Everybody had planned for it to come out after Street Survivors. "Allen and me just been sittin' around, so we took on the project of putting this album out. We went a couple of weeks ago to mix and master it and now we're workin' on the cover. It should be out sometime in September."
"The name of it's "Skynyrd's First … And Last". It was the first album we ever recorded and the last one (pause) that Lynyrd Skynyrd will ever record." "It was a big plan that after Street Survivors we were gonna put it out. It's just that (pause) the crash, and we waited a while to recuperate. So now me and Allen is putting it out."
What about the remaining Skynyrds- Billy Powell, Leon Wilkeson and Artimus Pyle?
"They weren't there," said Gary, not with malice, just matter-of-factly. "We're not trying to be unfair, but we did this way back before we met them. Billy was on the album, yeah, but he was our roadie then."
Allen, his glass now dry, decides to join the conversation.
"We had the train rolling … they jumped on it. They did their part when they jumped on, ya know, they carried their load. But they jumped on after the train was movin'."
It took a lot of sweat and sacrifice to get that train out of the station, and Gary remembered as if it were yesterday. "They took us on a chance back then. We went up there (Muscle Shoals) and did a demo all day. We played all our songs and they (producers Jimmy Johnson and Tim Smith) listened to 'em."
"We borrowed the money to get up there and barely got to eat … turned in a lot of coke bottles, too," added Allen.
"We used to stay in a hotel called Blue's Truckstop," recalled Gary with a grin, a fond memory drifting back through the years. "It was $31 a week for two rooms." "We didn't have no money. We ate peanut butter and jelly sandwiches 'cause it was real cheap, or maybe McDonald's once a day … and that's about it. We just knew we wanted to make it and would do anything to get there."
Very much a part of the early Skynyrd were some musicians who have since gone their separate ways.
There was bassist Larry Junstrom, now with Donnie Van Zant's (Ronnie's younger brother's) band, 38 Special. And there was Rick Medlocke, now with Blackfoot, then Skynyrd drummer and vocalist on the anthology's "White Dove" and "Seasons."
Then came and went bassist Greg Walker (Blackfoot) and drummer Bob Burns. Burns was with the band through their first two albums.
Gary, the closest thing to a sex symbol in Lynyrd Skynyrd, was the last to trade in the single life for an attractive bride named Martha, whom he married in September of '77, slightly over a month before the tragic crash. Gary and Martha reside in a comfortable but not imposing home located on four acres overlooking the St. John's. "That's a pretty big yard actually," Gary said. "And I do all the work around here, like mowing grass on my riding lawn mower."
Before picking up the guitar when he was 14 years old, Gary first tried his luck with another instrument. "I used to play the broom and sing like Elvis Presley, I gave it up and got a guitar." His first band in his teen years was an unlikely group called Me, You & Him. It was here he learned his basic guitar licks and as everybody else seemed to do, "learned all the old Ventures stuff."
More important that the early groups was the time Gary spent at Lee High School in Jacksonville, Fla. Already a musician, Gary wore his hair not quite long enough to please him and too long enough to please a certain coach named Leonard Skinner. When Gary was kicked out of Lee long before his senior year, with the help of coach Skinner, he filed the coach's name in his memory for a later spelling shuffle and used it to help come up with a name a little more identifiable than The One Percent.
Gary has also had his own share of bad luck outside of Skynyrd. "I've been in every kind of wreck you can be in… plane, car, motorcycle, mini bike, go cart, bicycle, walkin', runnin' and on a skateboard." The run in with the skateboard came at age 13 when he was attempting to ride down "Thrill Hill" in neighboring Fernandina Beach as part of a contest. The idea was to ride at least half way down before jumping off onto the grass at the side of the road. "I got too scared to get off, so I rode all the way down. When I hit the dirt at the bottom, I flew about 20 ft. and broke my collar bone. But I did walk home carrying a first place trophy under my arm."
Allen has always projected as much "family man" as a rock star's image makers will allow. Kathy, his wife of eight years, and two daughters, Amie (7) and Allison (3), are the reasons. Not only have they provided the stability to withstand the hectic lifestyle, but also added extra incentive to survive Skynyrd's traditionally rotten luck.
Aside from the band's plane running out of gas last fall, there was the incident on the same tour in Savannah, Ga. where thieves broke into hotel rooms and made off with gate receipts, clothes and jewelry worth nearly $70,000.
Then there was the time last May when the vehicle Allen was driving on his way home, couldn't quite make a particularly tricky curve. "My jeep just couldn't quite make that corner. I could, but it couldn't." The jeep. was a total loss, but Allen came through with a short stay in the hospital and a great deal of respect for sharp curves late at night.
But it wasn't always so glum. Allen's pre-Skynyrd days have left him with some fond and sometimes humorous memories.
It's not widely known that the guitarist best known for the now legendary solo which ends "Free Bird" started out behind a drum kit.
After a few musical endeavors with friends carrying names suited for the times, such as The Mods, Allen helped form the Wild Things. Their line-up included a young guitarist named Gary Rossington, and a young, but determined vocalist, Ronnie Van Zant.
Allens' early years saw The Wild Things progress into The Noble Five, The Pretty Ones, The One Percent and finally Lynyrd Skynyrd.
His stick-it-out attitude finally rewarded him with a Lincoln Continental, an 18-ft. ski boat and a nice, but not overwhelming home on three acres of what Allen affectionately refers to as "swamp."
Fans can expect a sound on the anthology somewhere in between the rousing "Gimme Three Steps" and the melodic "Tuesday's Gone," both coincidentally from the group's debut album, Pronounced ….
"Above everything else, we especially want to say, speaking for everyone, that Ronnie was the main pulse. He was the heartbeat of everything. We were just the organs that made it go okay. He'll never be replaced, that's all we're used to. So we're on a weird trip right now, trying to get our thing together…but we'll do it."
But how will the sound of whatever they decide to name their next band differ without Ronnie Van Zant?
"Me and Gary, as far as the music goes, will be the same old Lynyrd Skynyrd style-wise. Singing-wise, it will be different, so it will probably change the whole thing. But music-wise, there ain't no way we're gonna change." "We never lost a battle. We won every one of them. I don't believe there was anybody … that could've beat us."
Gary rose and headed for another beer, the long night finally starting to show. As he reached the door, he turned and tugged on his long locks once again.
"If we die fighting, we'll die happy."
LYNYRD SKYNYRD DISCOGRAPHY:
1973 Pounounced Lynyrd Skynyrd
1974 Second Helping
1975 Nuthin' Fancy
1976 Gimme Back My Bullets
1976 One More From the Road (Live)
1977 Street Survivors
1978 First and Last
1982 Best of the Rest
1987 Legend
1991 Box Set
1998 Skynyrds First (Complete Muscle Shoals)
2000 Collectybles
2009 Live at Winterland 3-7-76
2009 Live at Cardiff 11-4-75
CLICK ON LINKS BELOW TO SEE MORE LYNYRD SKYNYRD PHOTOS & ARTWORK:
WINTERLAND 4-27-75
and
OAKLAND 9-20-75
and
WINTERLAND 3-6-76
and
SPOKANE 10-7-76
and
SPOKANE SOUNDCHECK 10-7-76
and
LYNYRD SKYNYRD ARTWORK by BEN UPHAM III